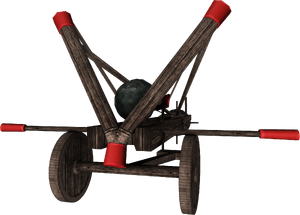 Bouldershots
are giant slingshots used by the
Kokiri
as siege engines.
Description
Edit
Essentially a giant Slingshot on wheels, the Bouldershot was the Kokiri's primary siege weapon. These contraptions could fling giant boulders across large distances to take out walls, gates, towers, and even enemy units that happened to be in the way.
Attributes
Edit
| Name | Description |
| --- | --- |
| Heavy Siege | More accurate and deals more damage to buildings, but much less accurate against moving targets |
| Extra Ammo | Larger store of ammunition than other units of its type |
| Easily Trained | Trained faster |
| Numerous | Larger troop count |
Recruitment
Edit
Ad blocker interference detected!
Wikia is a free-to-use site that makes money from advertising. We have a modified experience for viewers using ad blockers

Wikia is not accessible if you've made further modifications. Remove the custom ad blocker rule(s) and the page will load as expected.