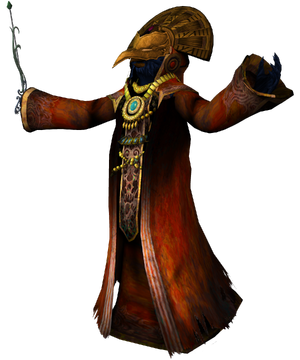 This article refers to the Order of the Wizzrobe unit. You might be looking for the Hyrule Historia character.
Conjurers are Wizzrobes that fight by animating and controlling Chilfos - crystalline humanoid constructs that wield long spear-like icicles.
Description
Edit
Conjurers were select Wizzrobe that had devoted their study to the creation and summoning of arcane and magical constructs to do their bidding. A powerful Conjurer could materialize an entire army of loyal automations under his command.
Attributes
Edit
| Name | Description |
| --- | --- |
| Skirmisher | Can make one ranged attack before charging |
| Long Reach | Bonus damage against all cavalry, immune to charges |
| No Fear | Cannot lose morale and retreat |
Recruitment
Edit
Ad blocker interference detected!
Wikia is a free-to-use site that makes money from advertising. We have a modified experience for viewers using ad blockers

Wikia is not accessible if you've made further modifications. Remove the custom ad blocker rule(s) and the page will load as expected.