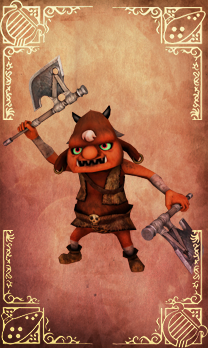 Dodoblin Squaddies
are small, immature Dodoblins dual wielding axes.
Description
Edit
An offshoot of Bokoblins, Dodoblins are among the most stupid members of Blin-kind. They can barely be qualified as sapient, and even seem to lack clever animal instinct and survival skills, instead suicidally throwing themselves at (usually much larger) prey. They are considered a massive joke to both their Blin cousins and their enemies across Hyrule. Despite their utter incompetence, the Moblins have found practical use for the creatures by throwing them en-mass into enemy forces as cannon-fodder.
Attributes
Edit
| Name | Description |
| --- | --- |
| Easily Trained | Trained faster |
| Impetuous | Strong morale, may charge without orders |
| Skirmisher | Can make one ranged attack before charging |
| Tenacious | Deals much more damage than units of the same size |
Ad blocker interference detected!
Wikia is a free-to-use site that makes money from advertising. We have a modified experience for viewers using ad blockers

Wikia is not accessible if you've made further modifications. Remove the custom ad blocker rule(s) and the page will load as expected.