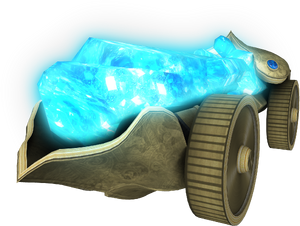 The
Mage Cannon
is the basic
Zora Dominion
siege weapon.
Description
Edit
Breaking a shard off of the powerful Mage Crystals and laying it in a mobile chassis, these cannons could be pushed around by Zora magic users and overloaded with power. When reaching capacity, a Mage Cannon would explode with tremendous force and unleash a powerful electrical bolt that could incinerate just about anything it hit.
Attributes
Edit
| Name | Description |
| --- | --- |
| Heavy Siege | More accurate and deals more damage to buildings, but much less accurate against moving targets |
| Magic | Instantly kills hit enemies |
| Exceptionally Trained | Responds to orders better, but takes longer to create |
| Aquatic | Can operate in water with no penalty |
Recruitment
Edit
Ad blocker interference detected!
Wikia is a free-to-use site that makes money from advertising. We have a modified experience for viewers using ad blockers

Wikia is not accessible if you've made further modifications. Remove the custom ad blocker rule(s) and the page will load as expected.