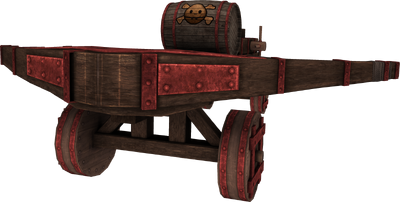 Powder Keg Launchers
are the basic
Goron
heavy artillery that fire kegs of explosive powder.
Description
Edit
The explosive Powder Kegs pack enough power to blow open the side of a cliff. When directed at and fired into an enemy army, the resulting blast results in all sorts of fiery carnage. A battery of Powder Keg Launchers could reduce any city to smoking rubble with a consistent barrage.
Attributes
Edit
| Name | Description |
| --- | --- |
| Explosive | Chance to instantly kill multiple enemies in attack |
| Flame Attack | Ground continues to burn on impact, damaging nearby enemies' morale |
| Heavy Siege | More accurate and deals more damage to buildings, but much less accurate against moving targets |
Recruitment
Edit
Powder Keg Launchers can be built from the Powder Keg Cooper.
Ad blocker interference detected!
Wikia is a free-to-use site that makes money from advertising. We have a modified experience for viewers using ad blockers

Wikia is not accessible if you've made further modifications. Remove the custom ad blocker rule(s) and the page will load as expected.