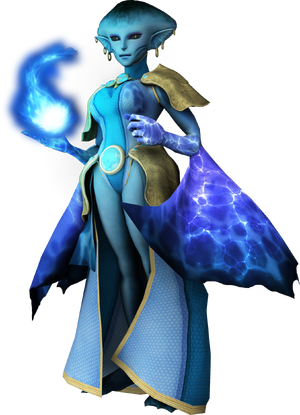 Sapphire Wardens
are
Zora
mages that throw Blue Fire, supernatural flames that could disintegrate anything exposed to it for too long.
Description
Edit
Zora Mages that have long been in study of magic, Sapphire Wardens could alter water and ice to the point of creating Blue Fire; a chilling flame that could then be used as a deadly weapon.
Attributes
Edit
Magic (Instant Kills to enemies with no magic protection)
Flame Attack (Ground continues to burn on impact, damaging nearby enemy morale)
Numerous (Unit has a larger troop count)
Aquatic (Unit is able to move and fight in water)
Recruitment
Edit
Sapphire Wardens can be trained from the Crystal Chamber.
Ad blocker interference detected!
Wikia is a free-to-use site that makes money from advertising. We have a modified experience for viewers using ad blockers

Wikia is not accessible if you've made further modifications. Remove the custom ad blocker rule(s) and the page will load as expected.