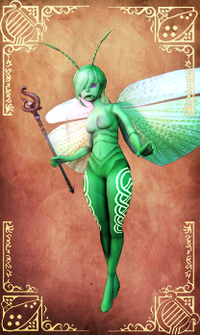 Undines are the most common type of human-sized Fairies of Tarm.
Description
Edit
Undine were larger, more human-sized Fairies that would occasionally leave their secluded homes and wander the land. Like most Fairies, if they encountered people of another race, they would often assume a form similar to them in order to converse. When provoked into a fight, the Undine would brandish a powerful wand. The full extent of its power is unknown to history, though armies that faced them often reported being pelted by burning pink needles.
Attributes
Edit
| Name | Description |
| --- | --- |
| Flight | Dodges most melee attacks, extremely vulnerable to ranged attacks |
| Body Piercing | Attack passes through multiple enemies, reducing damage with each enemy |
| Camouflage | Can hide in trees and shrubbery |
| Numerous | Larger troop count |
Ad blocker interference detected!
Wikia is a free-to-use site that makes money from advertising. We have a modified experience for viewers using ad blockers

Wikia is not accessible if you've made further modifications. Remove the custom ad blocker rule(s) and the page will load as expected.