Valadeku

Name

Valadeku

Titles

Race

Gender

Male

Family

Birth

Death

Weaponry

Unknown

Music Themes
Valadeku was the first leader of the Huskus who lived in the primordial days of Hyrule.
Etymology
Edit
Valadeku's name is pronounced as
Vala Deku
by
Sulkaris
. It is unknown if this is the correct form of his name.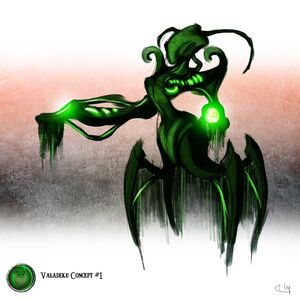 Primordial Era
Edit
Valadeku and his people trace their origin outside of Hyrule.
During the War with the Druthulidi, Valadeku and his followers sided with the Trilith, and he personally slew Iemanis, earning his race the eternal enmity of the Gohma. Following the war, his people would settle in what is now the Kokiri Forest, forming the Huskus Imperium many years after his death.
Ad blocker interference detected!
Wikia is a free-to-use site that makes money from advertising. We have a modified experience for viewers using ad blockers

Wikia is not accessible if you've made further modifications. Remove the custom ad blocker rule(s) and the page will load as expected.