Voice of Odolwa

Name

Voice of Odolwa

Titles

Voice of Odolwa

Race

Deku Scrub

Gender

Male

Family

Birth

Death

Weaponry

None

Music Themes
The Voice of Odolwa is the leader of the cult of Odolwa, the Deku Scrub God of the Hunt.
Second Golden Age
Edit
For most of his life, the Voice of Odolwa has long built shrines and temples dedicated to his god, which are mostly ignored by the Scrub population at large.
After the infection of King Kud-loh-kan with the Mad Scrub disease, his daughter Kad-a-kana turns to the Voice of Odolwa for a cure. He promises he will aid the Princess in finding the culprit in return for her service to Odolwa. Many are naturally suspicious of his intent.
Bodyguard
Edit
The Voice of Odolwa's bodyguard consists of Odolwa Chanters, a unique support unit.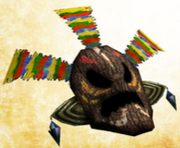 Ad blocker interference detected!
Wikia is a free-to-use site that makes money from advertising. We have a modified experience for viewers using ad blockers

Wikia is not accessible if you've made further modifications. Remove the custom ad blocker rule(s) and the page will load as expected.