Zarosef

Name

Zarosef

Titles

King of the Zola (self-proclaimed)

Race

Gender

Male

Family

None

Birth

Death

Weaponry

Zola Axe, Zola Shield

Music Themes
One of the various kings fighting for power amongst the Zola, King Zarosef believes he came up with the idea of invading the races on land to expand his empire. He thinks little of his own soldiers and works only to see that every village he comes across is looted and devastated. King Zarosef is followed by his personal River Knights, and prefers to fight in combat himself rather than order his soldiers around.
Hero Ability
Edit
Bloodlust: Allied unit's combat damage greatly increases, but they become sloppy in their fighting and have an increased chance of being instantly killed.
Bodyguard
Edit
River Knights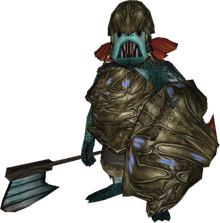 Preceded by:
Various Zola Kings
Position:
King of the Zola
Succeeded by:
Princess Sokuuf (as Queen of the Zola)
Ad blocker interference detected!
Wikia is a free-to-use site that makes money from advertising. We have a modified experience for viewers using ad blockers

Wikia is not accessible if you've made further modifications. Remove the custom ad blocker rule(s) and the page will load as expected.